The Rock is a free coffee bar that started out as a ministry to engage the community and to provide fellowship and build relationships. It began with English classes that soon then offered Korean, Japanese, French, as well as Guitar lessons and Bible Studies. From the relationships that it built churches came out of it as a result as well! Now it's open every weekday at night from 7:30-10:30PM usually packed with people wanting to learn English, and volunteers sharing the gospel.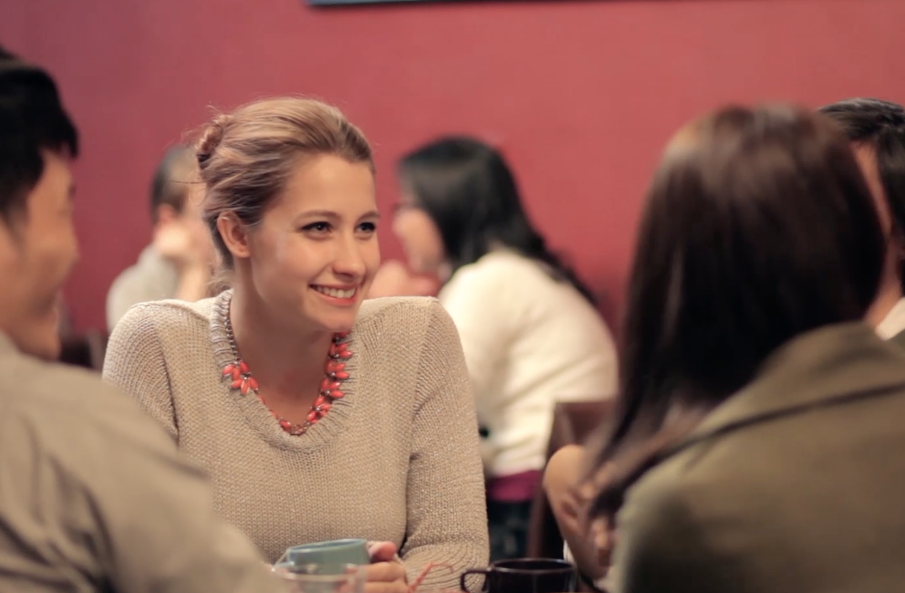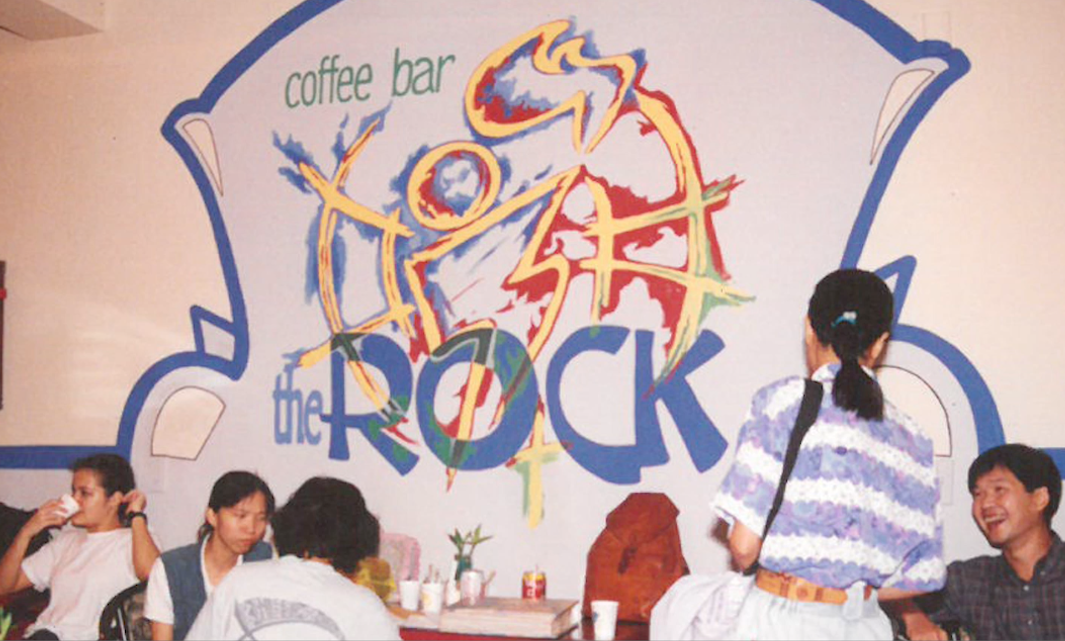 "The Rock". On one of the busiest streets in Dan Shui where businesses go in and out like water. There is no other way to explain how the Rock has made it, than that God wanted it there.
Try to find any business that has survived on this street longer than the Rock and there are only a handful. That in itself is a testimony to God"s provision. Add on that it's a FREE coffee / tea/ soda bar and you really start to see the miracle. While many businesses have come and gone over the years, the Rock has remained. And the lives that have been changed in it will testify to the Glory of God long after it has gone.
Rewind life to 1996; and Dan Shui was a MUCH different place. There was no train station, no Starbucks or popular clothing stores; the most modern building was the McDonalds. Tourists would come but it was more like a quiet country town. A town where parents let their little kids walk to school by themselves with little worry of them being hit by a moped. Unlike today, where the streets seem to teem with millions of motos careening around unsuspecting pedestrians like objects in a badly played video game.
Around this time a Dutch YWAM missionary, Jo Van Bakel, came to Dan Shui. God started to give him a vision of a place where young people could come and hang out, feel safe, relax, talk about life and Jesus and have free drinks. Jo had no money, little help and rent was super expensive so he and a couple others started to pray. One day on a prayer walk Jo happened to look up and see a "for rent" sign in the window of what is now the Rock. A few prayers and phone calls later they had the building; but it needed a lot of work and they had nothing to go inside.
Soon Jo received a call about a local disco tech going out of business. They asked if he wanted anything…for free. Soon the Rock had tables and chairs, a refrigerator and mirrors. The rest of the things they were able to sell and use the money to purchase what they needed. As God would have it a YWAM team came from Texas , however they didn"t have a clear goal or reason for coming to Taiwan. They only knew they were supposed to come and "happened" to be a team of construction workers and artists. When churches in Taiwan heard the mission of the Rock they wanted to help support it as well. In what seemed like the blink of an eye God took an impossible dream and turned it into reality.
 English classes                                        
With three staff, a room stocked, decorated and set up they were ready! But… no one wanted to come in. The community could not believe a shop could stay open offering free drinks without some kind of catch. After all everyone in the community knew how expensive rent was on that street. But Jo and the others kept talking to people and a few brave souls were willing to climb the steep stairs to the second floor. Jo started to challenge other YWAM schools to help out because with three staff they could not stay open every night. The DTS school would have to drive over an hour both ways just to help talk with people.
In 1998 God moved Jo on to study the bible in more depth in Kona, now he is leading the Kona SBS department. And God laid it on Don and Denise Gilman"s hearts to take over the Rock when he headed out.
As Don & Denise were leading a small group God began to speak about doing a door to door survey and asking the community what it"s needs were and how the Rock could serve them. It was long tiring work, visiting over a 1,000 doors, and when they were done… they were all surprised. The community wanted English classes.
The staff did not want to teach English classes. But in obedience to God they started offering English classes. Only four people showed up at first and they almost threw in the towel, but every time they prayed God encouraged them keep pressing on. He promised if they were faithful with the few He would multiply.
The next English class doubled in size.
In 2000 the handful of workers in Taiwan renovated the Rock and had a 24/hour fast and prayer asking God for more workers to come. God has more than blessed their prayers.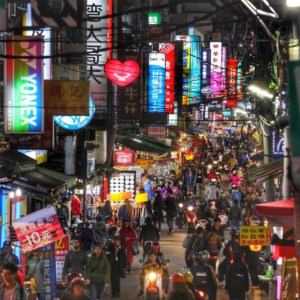 Today, if you come to Danshui…             
you will most likely arrive on the train, last stop on the red line. Then you cross the street with the hundreds of other visitors and begin Jostling your way down Ying Zhuang Rd. You will be elbow to elbow with university students, residents, street vendors (with DELICIOUS FOOD & cool clothes), motos and tourists and a little over halfway down the street is the Rock. During the day it's fairly easy to spot but at night the door to the Rock can disappear as it is nestled between a lingerie and drink shop. However, most nights any number of people from the base whether a student, full time staff, or short term missionary will be outside the door passing out fliers and getting to know people on the street, pointing them to the Rock.
Despite not being the most obvious entrance, most nights the Rock is packed with people from all walks of life and volunteers from all over the world. The main reasons people keep coming are for the relationships they form. They say they have never met people who are so warm and friendly. Many of the people who come in are lonely or struggling with classes at school. They usually come up for classes but they continue to come because they meet Jesus in the hearts and lives of the people who daily are serving at the Rock and doing their best to love them. It's hard for the Taiwanese to believe that people would give their lives, often sacrificing good paying jobs, to come here just to tell them about and show them the love of Jesus. Many have never heard of the God of the Bible or that there is a God who commands his people to love and serve. When they hear, their lives are changed forever.
So how did the Rock start? A man heard from God. It was a crazy idea. So he prayed… waited… stepped out… and the fruit and relationships just keep growing!